If you know anything about data brokers or background check websites, you may have heard of the company BeenVerified.
You might even be asking yourself: how do I opt out of my personal information appearing on BeenVerified?
You can remove personal information from BeenVerified by submitting an BeenVerified opt out request form. Visit their website and select the "Do Not Sell My Personal Information" link.
Search for yourself, then provide an in-use email address to finish submitting your request form.
In this digital age, it's great to have access to so much information- but a little privacy can be great too.
If you are looking for more information about keeping your data private from BeenVerified searches, you've come to the right place.
The rest of this article will tackle all things BeenVerified, including how to opt out of their searches.
How to Submit BeenVerified Opt Out Request? [Easy Method]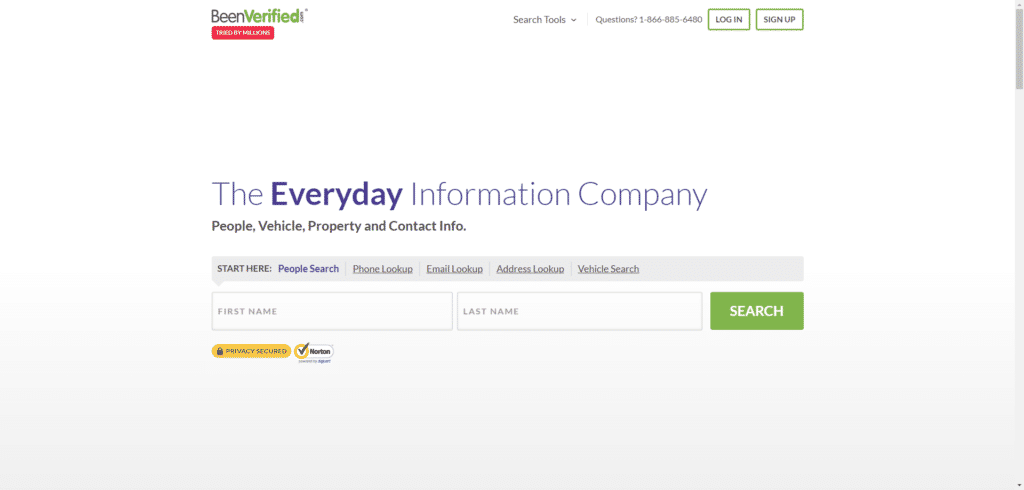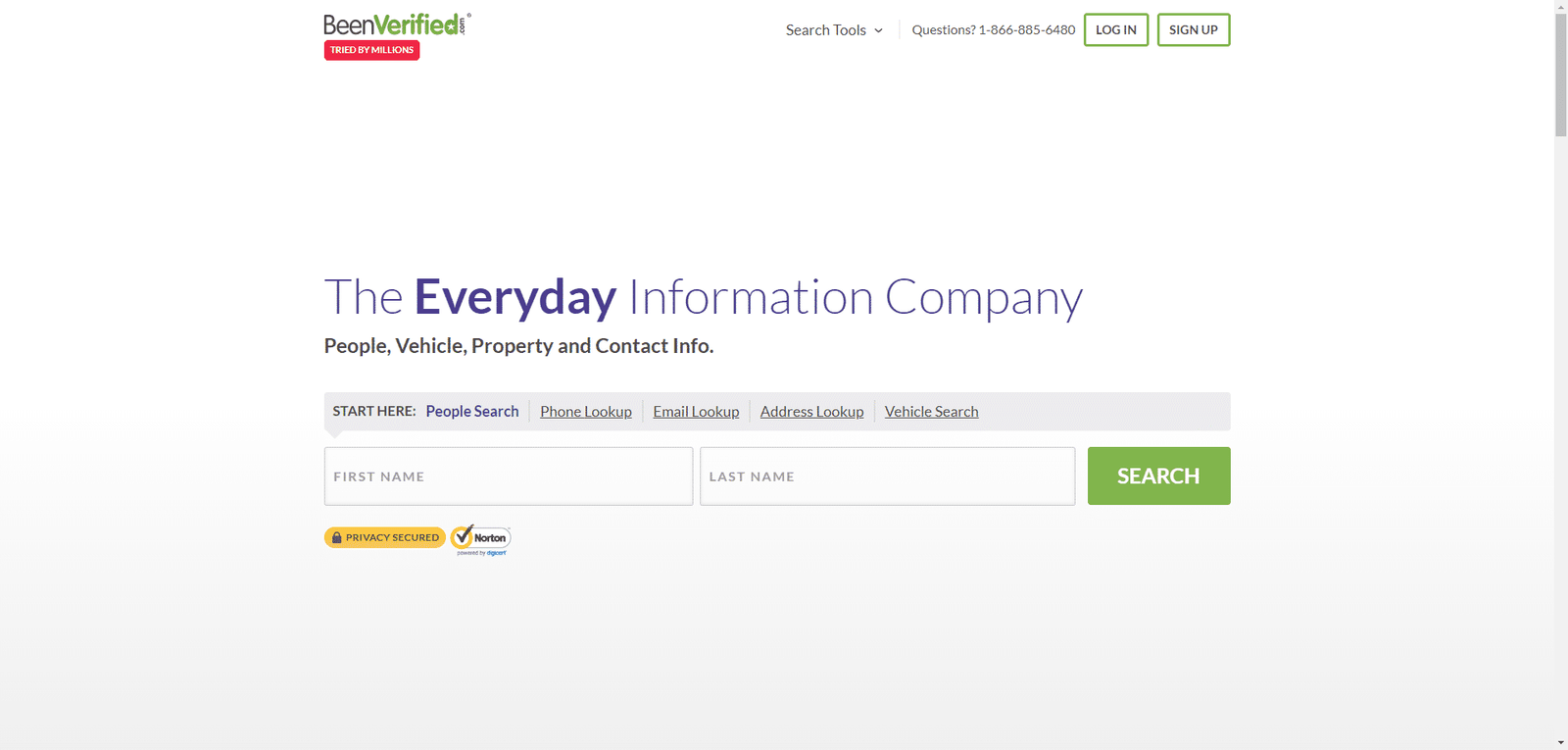 On BeenVerified, anyone with a membership can use your name to find all sorts of information about you, including your age, phone number, potential relatives, and more.
Access to this information is helpful when wanting to reconnect with people you've lost touch with or even to verify online sellers.
However, the idea of your information floating around for all to see may be challenging.
Thankfully, BeenVerified offers an opt-out service for anyone to request the removal of their personal information.
Removing your personal information from BeenVerified is quick and easy.
Just follow these simple steps to submit the information removal request form:
First, head to the BeenVerified website.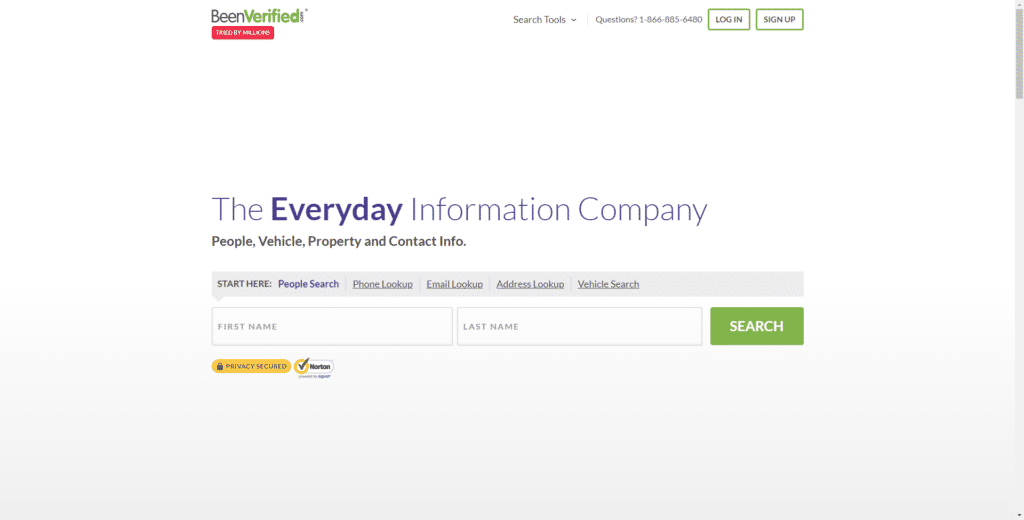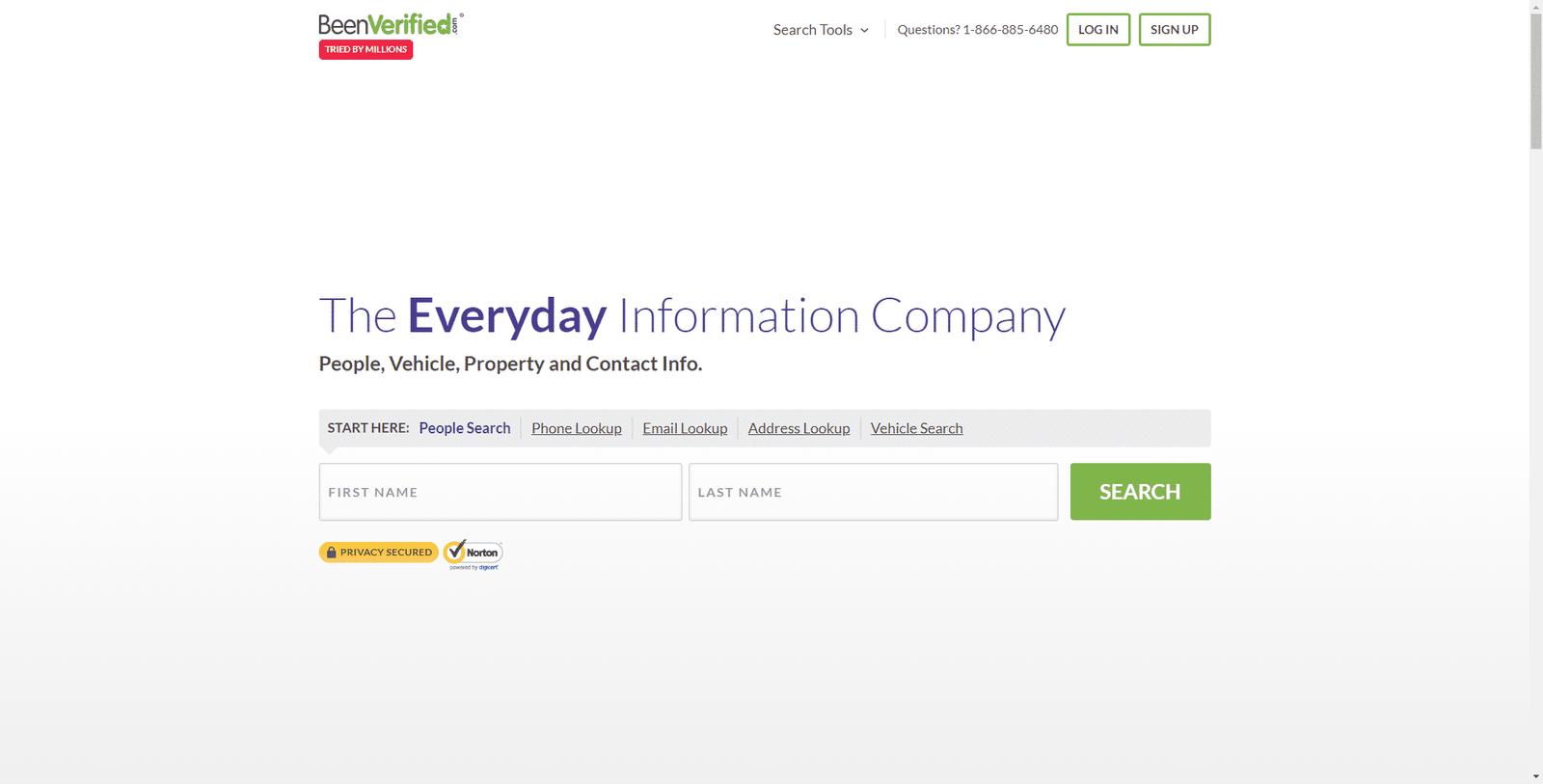 You'll find a website footer with different categories at the bottom of the page.
Underneath the help tab, click "Do Not Sell My Personal Information."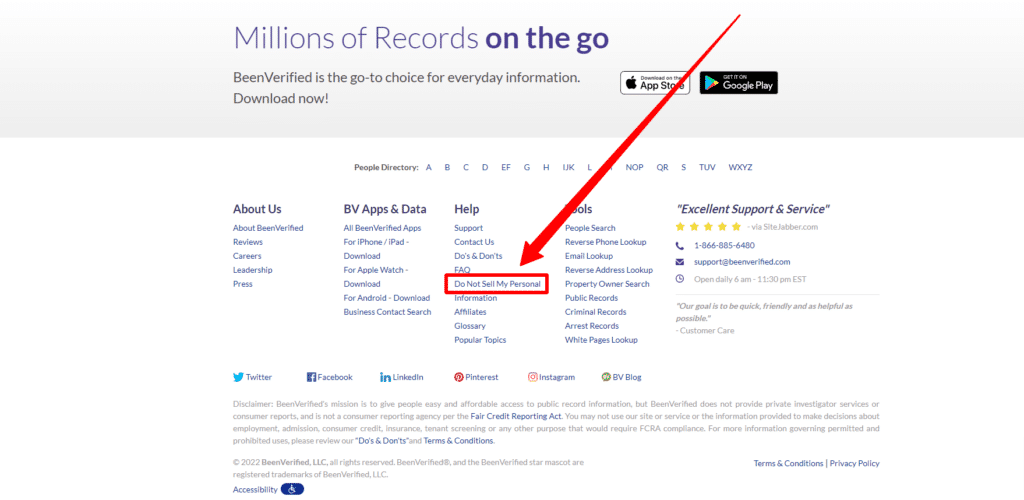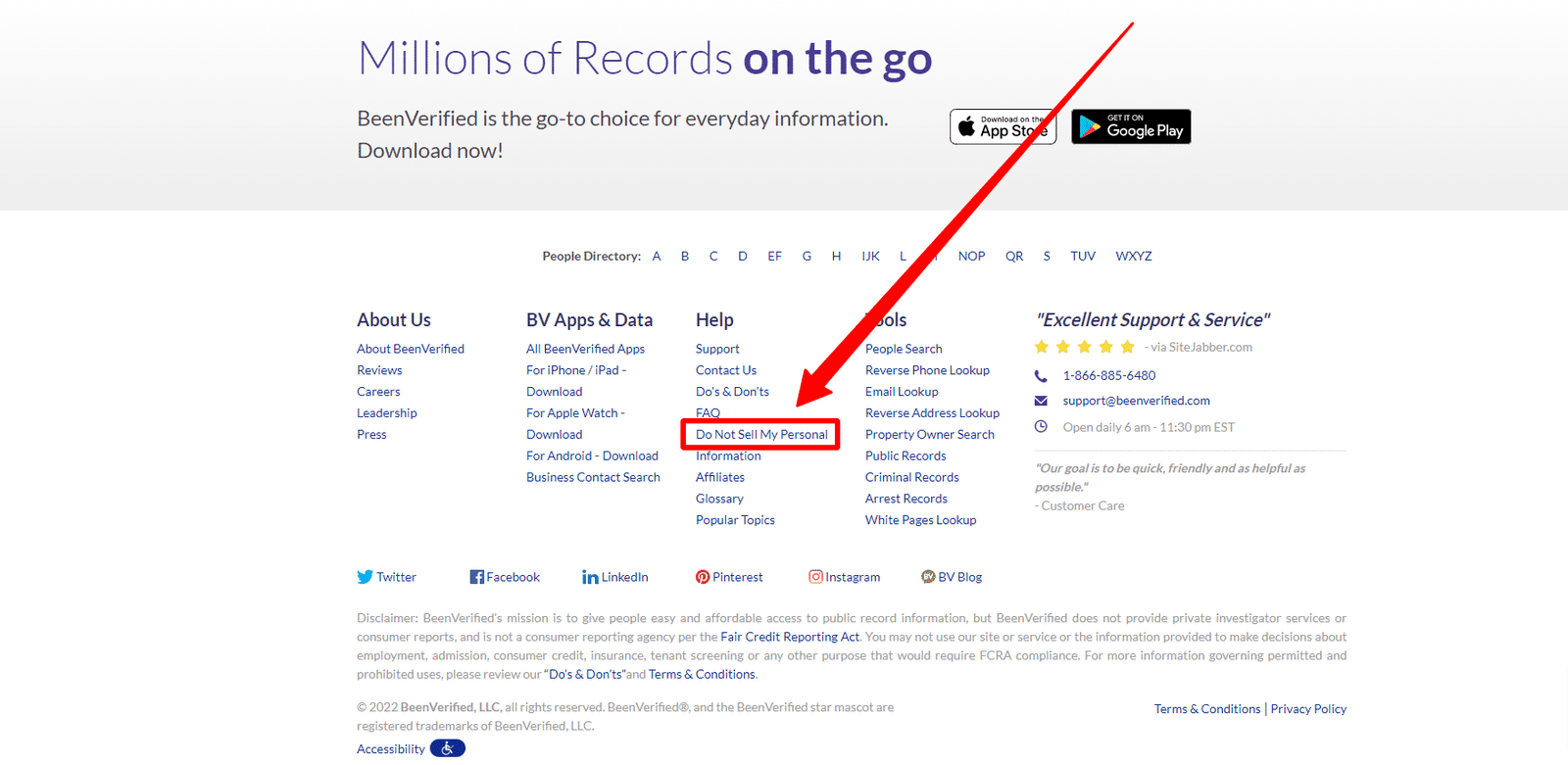 The link will take you to another page where you can search for your record. Type in your first and last name, and hit "search."


Once the names load on the page, find your record. The results show up by age. So if you are older, your name will be towards the bottom of the results.
After you find yourself, click on the arrow to the right of your record.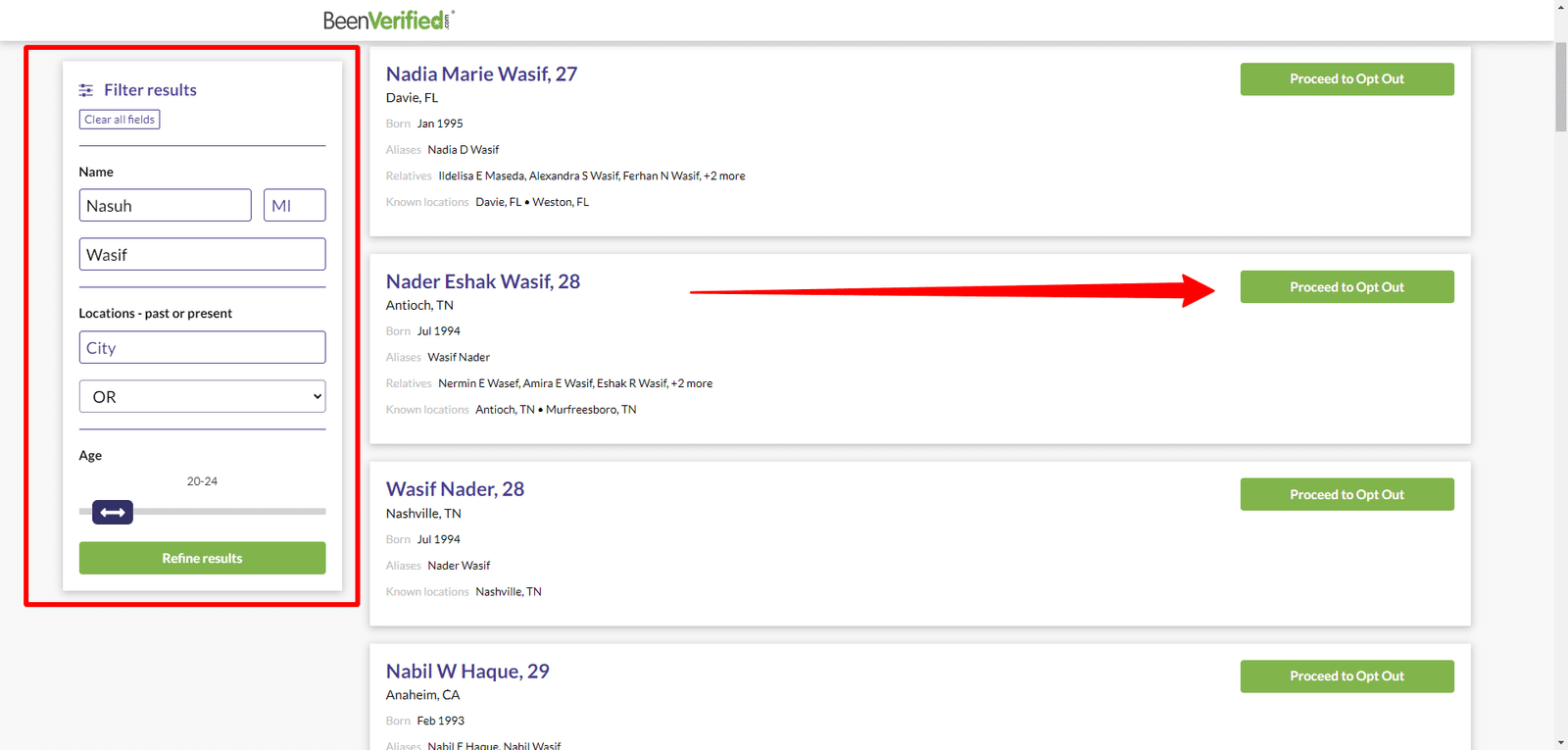 Enter your email address when prompted. You will also need to perform the reCAPTCHA check to send the opt-out verification email.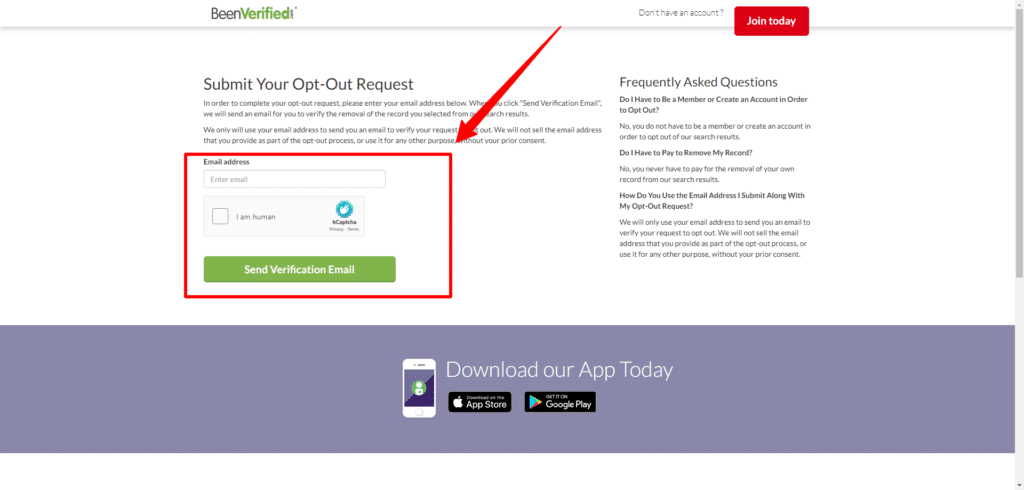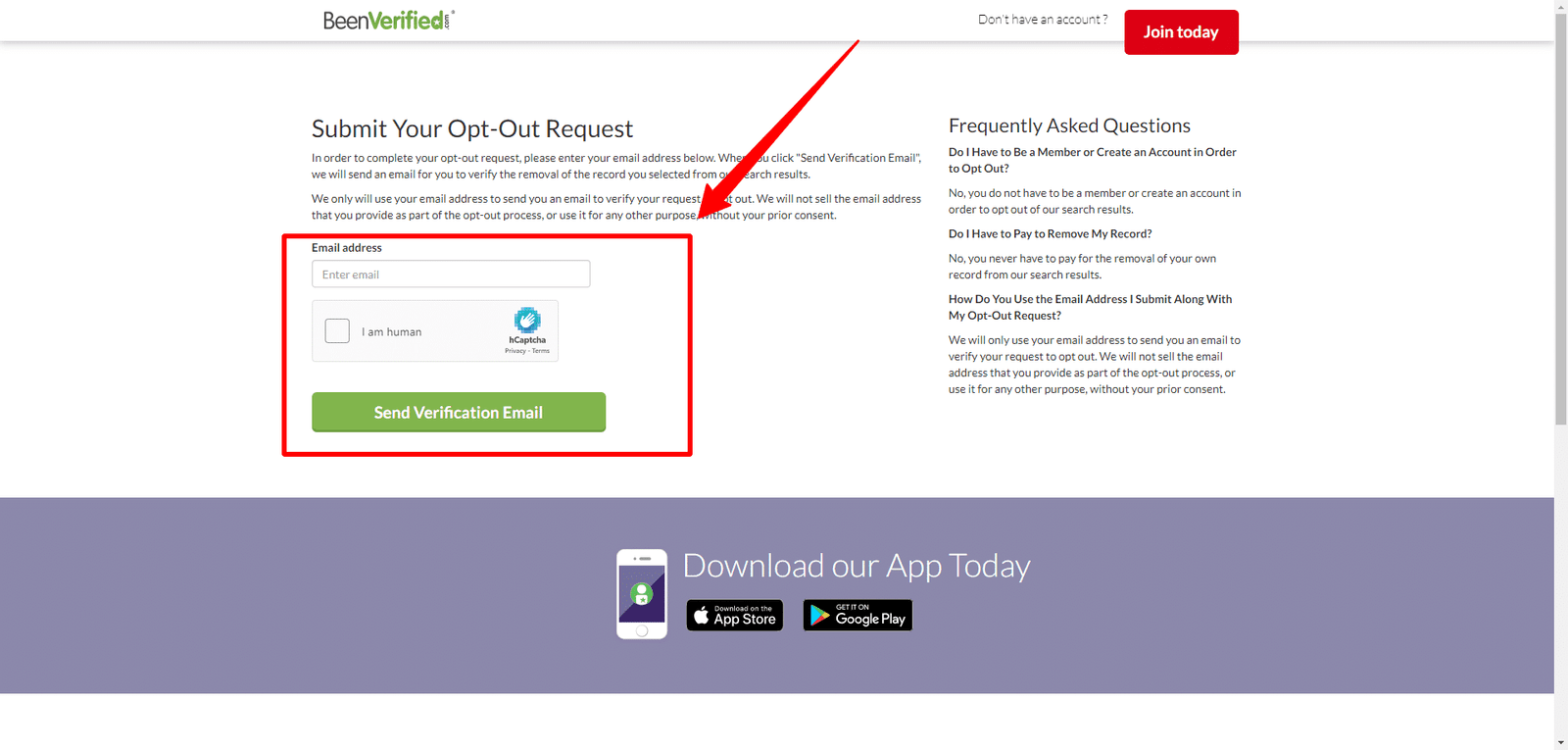 Within a few minutes, you should receive a verification email in your inbox informing you of your information removal request submission.


After completing the final step, sit back, relax, and wait for your record to disappear from the site.
How long will it take to delete my record?
Your personal information will not immediately disappear from BeenVerified. Even though you have received a verification email, it only verifies that you submitted the removal request.
It can take 24 hours before your record disappears from their People Search feature.
How Can I Find Out Whether My Record Has Been Removed?
It's perfectly normal to have concerns about whether or not BeenVerified removed your record. If you are concerned, you can head to their website a few days after getting your verification email.
Scroll down again to the bottom, and select the "Do Not Sell My Personal Information" link. Once there, you can search for your name again.
If your name is no longer there, you successfully removed your record. If you find your information still there, you can reach out to BeenVerified's customer service.
Their customer service team is always willing to help you check on the status of your record removal.
Do My Data Ever Show Up on BeenVerified After I Opt Out?
After opting out of BeenVerified, you might think you've finished and removed all possible information from being listed there.
However, BeenVerified may have multiple listings for your name and information. If this is the case, you will have to complete the removal process again for each listing.
Data broker sites, like BeenVerified, often repopulate their information. They are constantly compiling their data by searching through public records.
The process is automatic- so your information may be recollected without BeenVerified fully knowing.
Since they are continually collecting data, another listing for you might resurface.
You must regularly monitor data broker sites like BeenVerified to keep your information secure and private.
How Much Does BeenVerified Cost?
The company focuses on bringing affordable, easy access to public records, so there are two subscription options for BeenVerified, and the costs vary between plans.
You can choose between a one-month or three-month membership. One-month membership of BeenVerified costs $26.89, while the three-month bills you $52.44.
If you are interested in maintaining a membership with BeenVerified, the three-month plan offers the better deal, working out to be only $17.48 per month.
While the three-month subscription is a longer commitment, it will save you an extra 35% in your final total compared to the one-month plan.
Where Can I Find BeenVerified's Newest Offers?
Everybody likes to save money. If you're looking for the best deals, coupons, discounts, and promos for BeenVerified, you've come to the right place.
When you open the BeenVerified website, you may sometimes see a list of all their best deals and latest offers.
However, we've compiled their current promos and listed them below to help save you time and money on a BeenVerified subscription.
7-Day Trial for $1
If you want to run a trial period of BeenVerified before you commit, you can sign up for a seven-day trial for only a dollar. All you have to do is click the promo to sign up.
The company does not have a time limit listed for this deal.
However, they state that the promotion will be available until it is closed- meaning that this deal may not be permanently available. So act now if you want to take advantage of it.
Extra 15% Off Regular Pricing
With this extra 15% off deal, your membership fee drops to $14.86 or $22.86 per month, depending on your chosen plan.
The deal is only suitable for one-time use. Exclusions also apply, meaning that you cannot stack discounts together.
If you want to take advantage of this extra 15% off, you must utilize the trial period promotion for $1.
The deal also states that it will only be available until BeenVerified cancels it. So act fast if you want to save money on a BeenVerified membership.
Extra 35% Off 3-Month Membership
With this great deal, you can order a three-month membership for the low fee of $14.86 monthly.
Instead of paying the regular three-month membership fee- a total sum of $52.44, you'll pay $44.58.
You might view this as more expensive than a single monthly fee, but it depends on how frequently you expect to use the website.
If you are always in need of accessing public records, taking advantage of this extra 35% off three-month membership makes the most sense to save you money.
The cost of paying a single-month membership for three months is $80.58. This deal, paired with the three-month membership plan, will save you over $28.
What Data Does BeenVerified Supply?


When you search with BeenVerified People Search, they provide you with a detailed report on the individual.
The information may include any of the following:
Names and known aliases
Birthdate and age
Phone numbers
Email address
Current address
Past addresses
Social media profiles
Potential relatives
Criminal history
Sex offender records
Court records
Available photos
Aside from their People Search feature, you can utilize their Reverse Phone Lookup, Reverse Email Lookup, and Reverse Address Lookup.
These features will provide you with a variety of information.
The Reverse Phone Lookup tool will provide you with the name of the individual or business who called you, their location, age, and any email addresses or social media accounts attached to that phone number.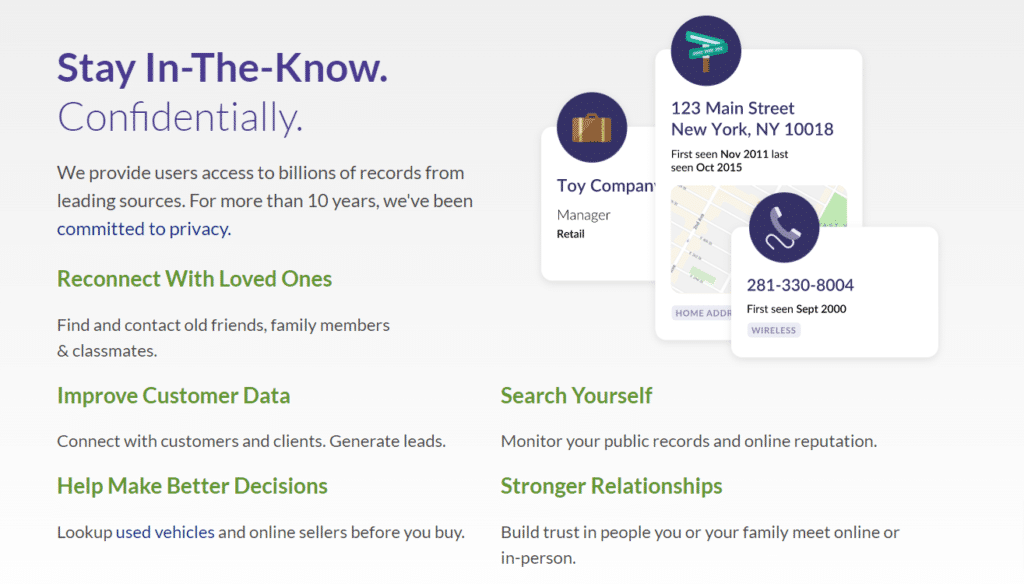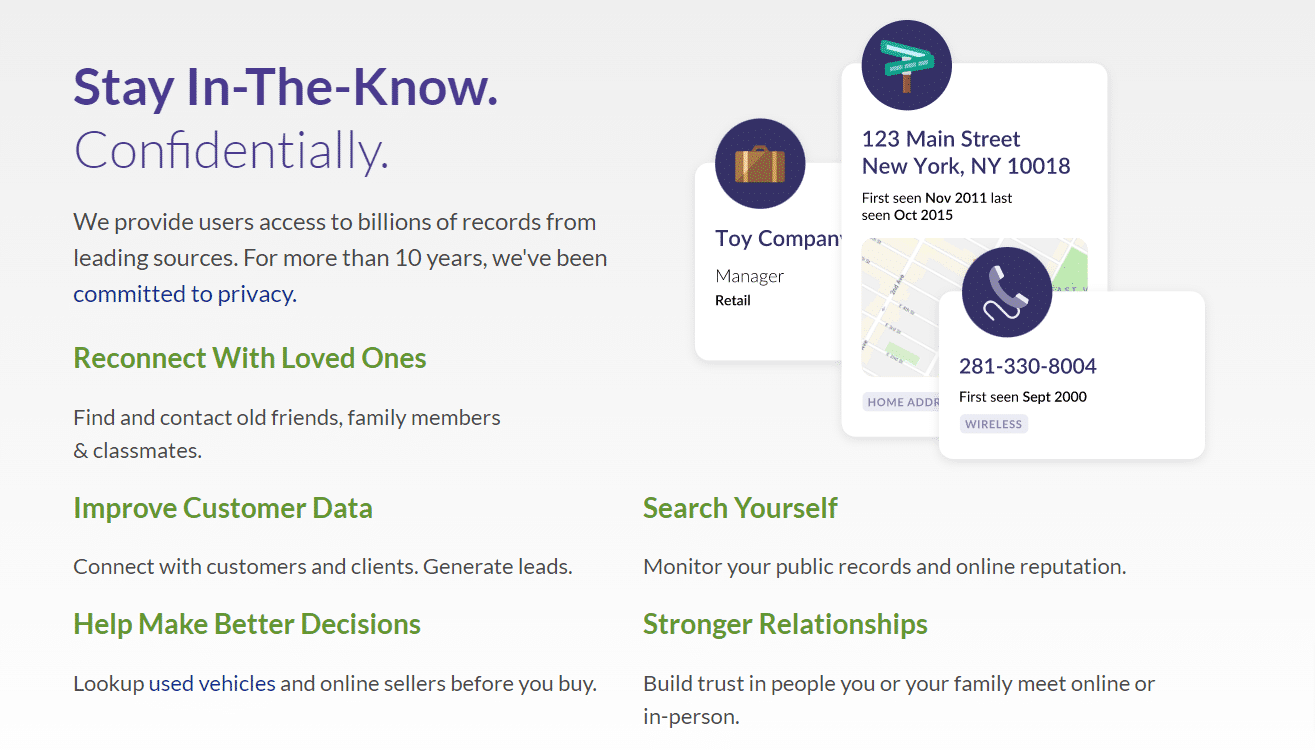 The Reverse Email Lookup tool provides you with the name of the person or organization tied to the email address, as well as the personal information of the sender.
You will also see any social media accounts linked to the email address.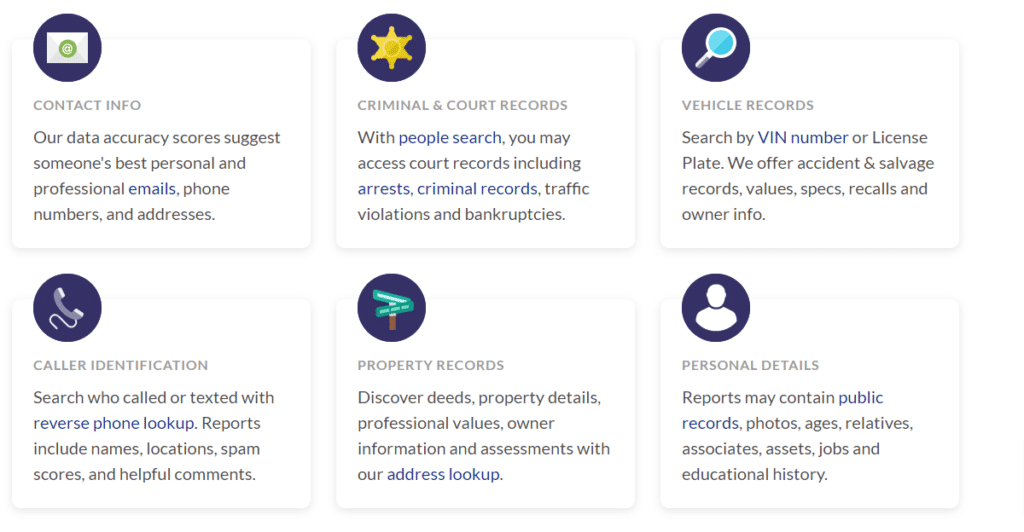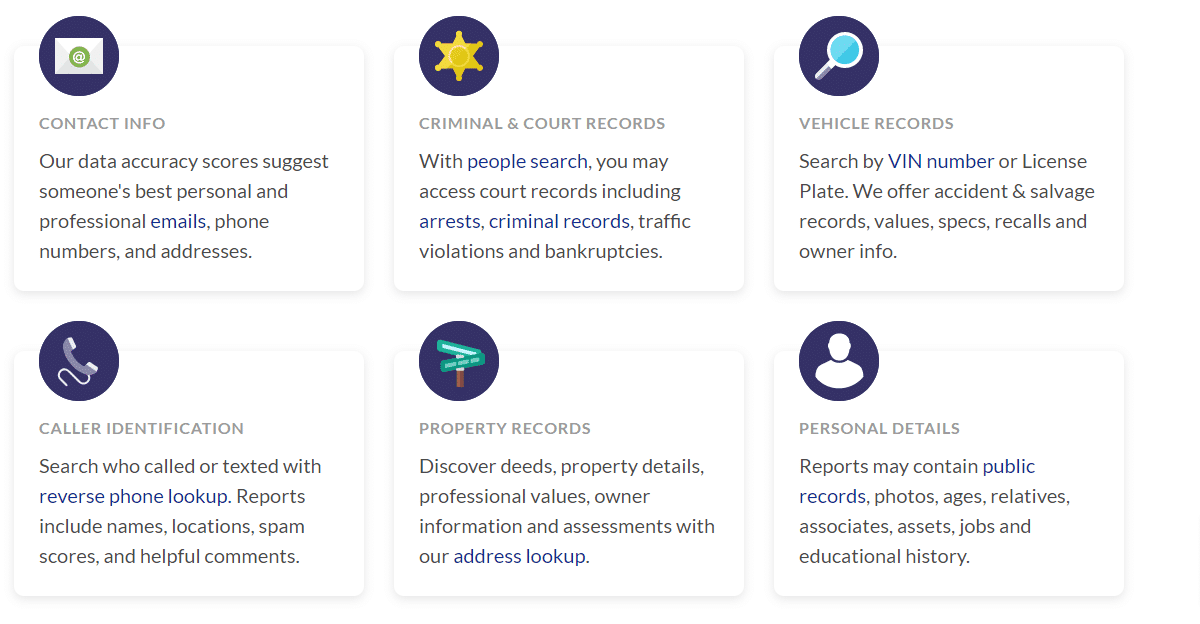 The Reverse Address Lookup feature will provide details of the home's physical attributes, such as when contractors built the house, the number of rooms, and square footage.
You will also receive information about the people who currently reside and records of people who previously lived there.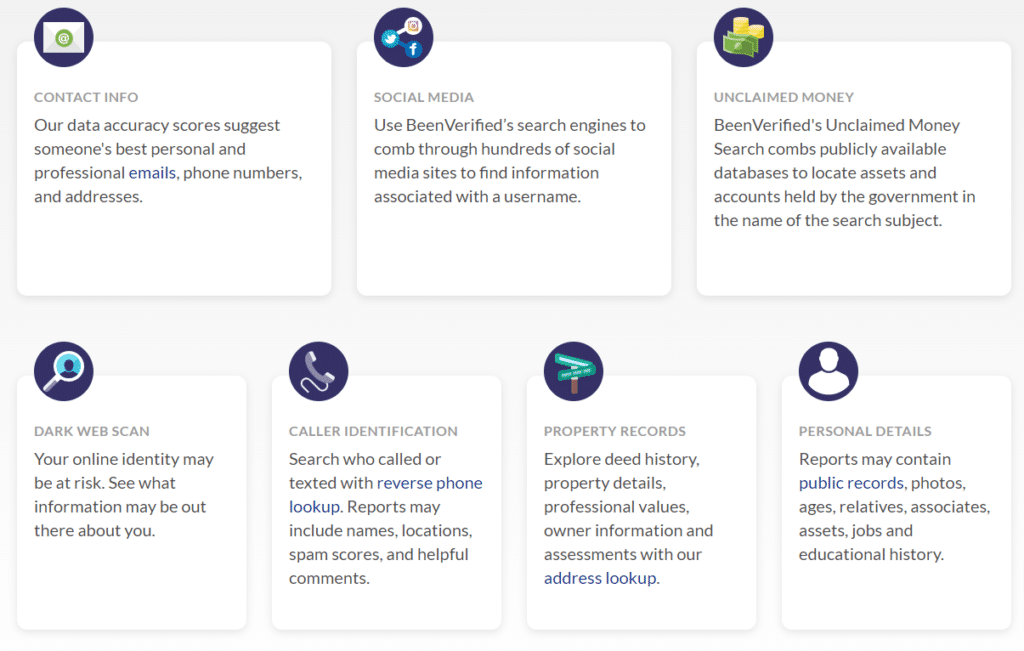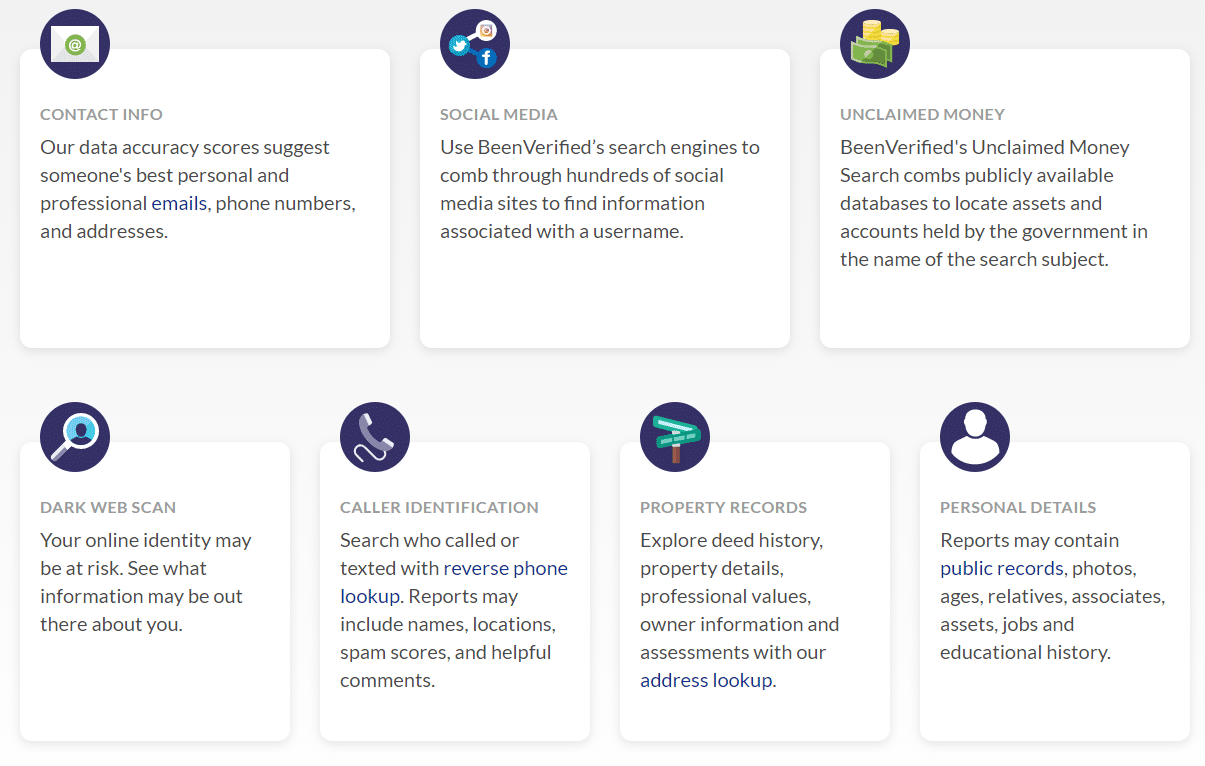 Final Thoughts on BeenVerified Opt Out
Internet background services are big businesses now. BeenVerified is one of the biggest names in the data broker industry because they deliver reliable information and various services for a fair price.
Removing your personal information from BeenVerified is simple.
However, the task may not be a once-and-done deal since data brokers constantly scrap public records and private databases for information.
To ensure that your record disappeared from their website, check the opt-out function on BeenVerified a few days after you send your opt-out request.
FAQs
How Does BeenVerified Use the Email Address I Provide With My Request to Opt-Out?
They will not misuse the email address you give BeenVerified for the opt-out request process.
The company only uses the email address to send you the removal request verification email and will not use it for any other purpose without your permission.
The company also does not sell or leak your email address to others.
Do I Need to Register for a BeenVerified Opt-Out Account or Be a Member to Opt Out?
You do not have to become a member or create an account to opt out of your information being searchable on BeenVerified.
Whether you are a member of BeenVerified or not, they likely have information on you. It is only fair that the company allows you to remove any personal information from their site without you having an account.
Do I Have to Pay for My Record to Be Removed?
Removing your record from BeenVerified's People Search results is completely free.
The company promises that you will never have to pay a fee to remove the information they have on you.
What Should I Do If BeenVerified Returns Multiple Records About Me?
BeenVerified regularly obtains and updates data compiled from various public and private databases. The company does its best to match existing records with new information.
Still, accidents happen, and sometimes, one person may have a couple of different profiles on the People Search engine.
Multiple records for you can appear if some of the data they find has different or varying information about you- such as different name spellings or initials.
If you find multiple records with your name and information, try calling customer service to alert them of the mistake.
BeenVerified works to prevent fraud and protect the integrity of its opt-out service, so you may not be able to remove multiple records of yourself by using the same email address.
You can contact customer service about the issue at: [email protected].
Does BeenVerified Show Text Messages?
BeenVerified does not show text messages.
Personal information, such as phone numbers, email addresses, and social media accounts, will be displayed, but you will not receive text message conversations with BeenVerified's services.
Does BeenVerified Cost Money?
BeenVerified searches are not free. To use the BeenVerified services, you must sign up for a one-month or three-month membership.
Traditionally, public record services require a lot of time. You would have to drive to a courthouse and wait for someone to find the file you wanted.
Records could be hard to track down, and you would need to find the exact courthouse with the desired physical documents.
You then would have to pay a fee to access individual records.
BeenVerified merged all the difficulties of public records into one easy-to-understand report, saving you time and money- making their low membership fee worth it for those trying to track down information.
Is there a Free Trial for BeenVerified?
BeenVerified does not offer a free trial. To protect your personal information from people who aren't serious about finding things, they require you to pay for their services.

However, they are currently offering a trial period promotion.
You can purchase a one-week trial period for only $1 before signing up for a one-month or three-month plan.